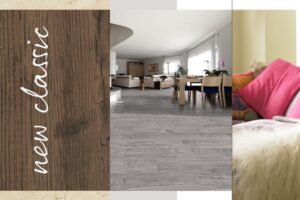 Refreshed. Reimagined. Redefined
Today's lifestyles are much less formal and far more hectic than in decades past. As a result, designers are challenged with helping busy clients create multifunctional spaces that are casual and livable. This informal style is called "NEW CLASSIC."
While traditional interiors of the past featured dark color palettes and heavy furniture, today's designs nod to the past, but are much lighter, brighter, and relaxed.
If you are of a certain age, you probably remember a room in your parents' or grandparents' home that was "off limits". Maybe it was a dining room that was only used on holidays or a living room that was furnished with antiques and fabrics not meant for the "every day". Formality and symmetry were important. There were probably matching end tables and/or lamps. Everything just went together. These rooms were most likely orderly, predictable, and dignified. These were not spaces that would work with a rushed and chaotic lifestyle.
Forget that formal, forbidden living room at your grandmother's house!
As modern life has redefined the way living spaces are used, traditional style has transformed with it. Enter: NEW CLASSIC. Brought into the current era, this updated style puts emphasis on the comforts and conveniences of present-day life while still maintaining the refined elegance of traditional design. The decor is soft and inviting with a contemporary, sometimes eclectic touch.
Furniture retains the curved lines and rolled arms of early period pieces, but with lighter, more practical fabrics. It still references historic shapes, but seats are now large enough for sinking in or lying down. It's far more comfortable when entertaining family, friends, and, of course, snuggling with the family pet.
The saturated colors of yesterday's traditional homes were rooted in English country style. Today's NEW CLASSIC palette is refreshed with lighter shades of classic colors and creamy off-whites to keep the look familiar but updated. Layered onto that neutral background are natural wood tones and accents of warm metals throughout the home.
Floors still have the look of centuries old wood or stone but are moving toward materials that can stand up to heavy foot traffic and indoor pets. Porcelain tile that mimics the quintessential character of traditional floors are featured throughout the home and they are becoming a point of interest. Designers are ditching the oriental rugs and allowing the clean, elegant visual of the floor to make an impact.
You also see a move to repurpose formal spaces to better fit today's lifestyles. A rarely used dining room can become a home office or homework space with the addition of a desk and focused lighting. Formal living rooms are being used as media rooms or game rooms.  It comes down to how you move through your home, how you entertain, and how you raise your family.
Modern life has changed how we use our homes and what we expect from them. Traditional interior design needed a few modifications to fit this new reality. The answer is a NEW CLASSIC trend that feels welcoming, open, carefully curated, and warm. It is a style meant for today's busy lifestyles. It is a style that refuses to be held back. It meets the future with time-tested elegance and a relaxed attitude.
Florida Tile